Meet the Council
Richard Guo Qing Dong - Professional Member (President)
Richard Guo Qing Dong is practicing TCM in Toronto. Mr. Dong comes to the Council with experience in regulation and TCM practices. Mr. Dong was elected in 2018.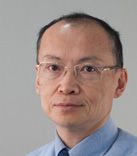 Ming C. Cha - Professional Member (Vice President)
Ming C. Cha is a traditional Chinese medicine practitioner. He completed his education and began his career in China before moving to Canada to continue his practice as well as to complete his Ph.D. in human nutrition.
Yvonne Blackwood - Public Member
A retired banker who worked as Bank Manager and Business Banker, Yvonne Blackwood has an extensive background in the financial industry. She has done wide-ranging work in community organizations evidenced by the many voluntary boards she has tirelessly served, and these include President of Tropicana Community Services Organization and Secretary of the Metro Toronto Children's Aid Society. In addition, Ms. Blackwood is a published author and was appointed to Council in August 2017.
Matthew Colavecchia - Professional Member
Matthew Colavecchia came to acupuncture as a career after his own battle with chronic pain and fatigue. He completed his acupuncture training in 2005, and been practicing in the profession ever since at his multidisciplinary clinic in Lindsay, Ontario, where he lives with his family. Matthew brings a strong will to protect the public with him to council. He has many years experience in sales, and understands what it is like to run a small business as a healthcare provider in Ontario.
Christine Kit Yee Fung - Professional Member
Christine Kit Yee Fung is a Traditional Chinese Medicine practitioner who has a passion for helping families achieve optimal health. Ms. Fung's management experience is an asset to Council as is her commitment to inter-professional collaboration.
Lihui Guo - Professional Member
Lihui Guo has been practicing and teaching TCM in Ontario for 20 years. He is currently practicing in Richmond Hill. Mr. Guo was elected in 2018.
Feng Li Huang - Professional Member
Feng Li Huang is a Traditional Chinese Medicine Practitioner who has a passion for serving the public with her knowledge and expertise in the area of TCM. She graduated from the Shanghai TCM University of China in 1990, accompanying with nearly thirty years of clinical practice experiences. She had been working in a North Africa country for two years as a member of the Chinese Medical Team twenty-one years ago.
Shiji (Stephen) Liu - Public Member
Stephen Liu is the Chair of Investment Committee of Chinese Business Chamber of Canada. Supply consultations to business fellows. He was a member of Advisory Council on TCM, Health Canada. from 2012-2016. Stephen was appointed to Council in March 2019.
Joanne Pritchard-Sobhani - Professional Member
Joanne Pritchard-Sobhani has been practicing Acupuncture and TCM since 1995. She has extensive education and clinical training in Acupuncture and TCM having studied at various universities and hospitals, most notably the Institute of Traditional Chinese Medicine. Joanne established The Institute of Acupuncture & Traditional Chinese Medicine and is a founding member of CARB-TCMPA. She was a member of the College's Transitional Council from 2008 – 2013, President of the College from 2011 – 2013, and was re-elected as President from 2013 – 2016.
Deborah Sinnatamby - Public Member
Deborah Sinnatamby comes to the Council with an extensive background in finance and experience with meetings and community support. Ms. Sinnatamby has an Honors BA in Sociology and volunteers with charitable organizations. She was appointed to Council on September 2019.
Xianmin Yu - Professional Member
Xianmin Yu is an Acupuncturist who received his Bachelor Degree and Master Degree in Acupuncture in Beijing University of Chinese Medicine and Shanghai University of Traditional Chinese Medicine respectively in China and practiced there for 8 years. He is currently completing his Master Degree in Kinesiology in UWO. He has 10 years of clinical experience.
Jinqi Zeng - Professional Member
Jinqi Zeng holds M.Sc. and Ph.D. degrees in clinic medicine with over ten years' experience in clinic as neurologist, physician, traditional Chinese medicine doctor and research scientist in mainland China, Hongkong and USA. She is actively involved in communities and charities with numerous volunteer experiences in different non-profit organizations such as SCO Health Service, Canadian Red Cross and Health and Social Services Advisory Committee of City of Ottawa.
Pixing Zhang - Public Member
Pixing Zhang is an IT expert by profession. He has helped many communities on different situations to bridge them into Canadian society. His effective work won him a Queen Elizabeth II Diamond Jubilee Medal in 2012.